Today I'm participating in a meme hosted by
Breaking the Spine
. Here's a look at an upcoming release that I'm excited to read.
P.S. I Still Love You by Jenny Han
Expected publication date: May 26, 2015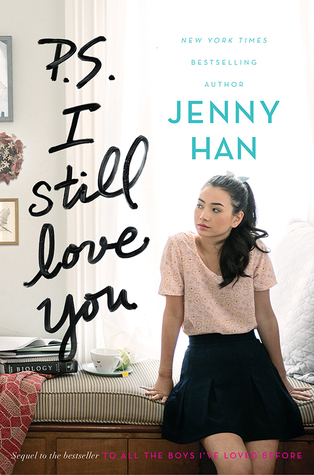 Here's the description from Goodreads:
Lara Jean didn't expect to
really
fall for Peter.

She and Peter were just pretending. Except suddenly they weren't. Now Lara Jean is more confused than ever.

When another boy from her past returns to her life, Lara Jean's feelings for him return too. Can a girl be in love with two boys at once?

In this charming and heartfelt sequel to the
New York Times
bestseller
To All the Boys I've Loved Before
, we see first love through the eyes of the unforgettable Lara Jean. Love is never easy, but maybe that's part of makes it so amazing.
I mentioned earlier this week that I spent my Valentine's Day reading Jenny Han's To All the Boys I've Loved Before. I love when a book pulls you in so much that you can't put it down, and this is exactly what happened to me. Lara Jean is such a sweet, imperfect, and fun teenager, and I think she embodies this
transitionary and often difficult period of life so well. She's awkward at times and unsure of herself and her feelings, but she feels so deeply and wants to find her place in her family, her peers, and the world around her.
I particularly loved how Han captured the relationship between the three Song sisters. As one of three sisters myself (and a little brother at the tail end), I could relate to their relationships so much, with all of their complex and complicated nuances and beautiful moments. Being a sister feels impossibly difficult and utterly amazing, often all at the same time, and Han really understands this. Lara Jean's younger sister Kitty was one of my favorite characters, and I can't wait to see what she's up to in the sequel.
And of course Peter and all the other boys who Lara Jean loves. Their stories aren't finished, and I'm anxious to find out what happens next! I have some strong opinions since I love Lara Jean and Peter so much and really want to see them come together, but I guess I'll just have to see where Han takes their story.
Is anyone else excited about P.S. I Still Love You? What books are you most looking forward to?